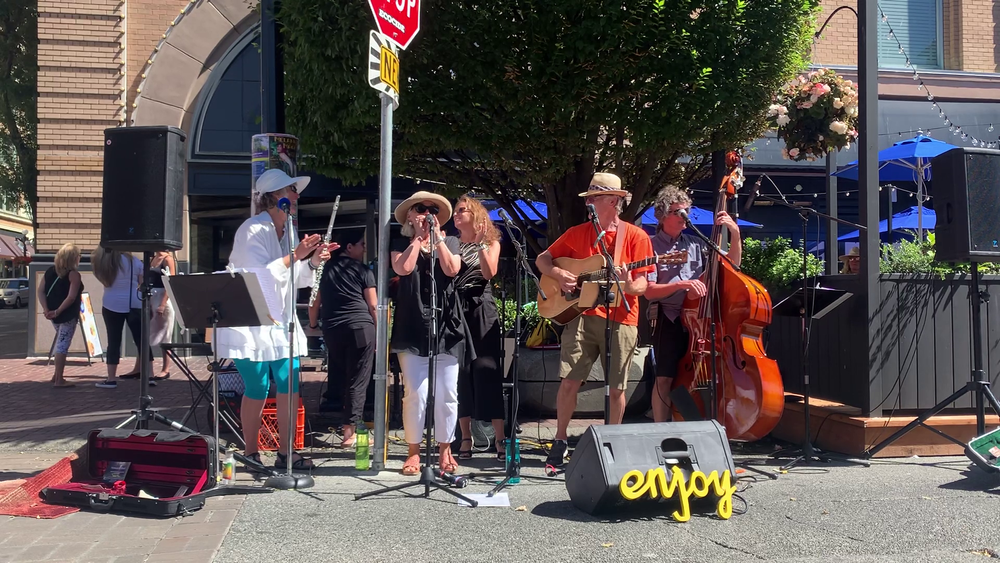 Short Bio of Homespun Band 
The Homespun Band is a Victoria-based folk fusion band fronted by singer/songwriter Duncan Sutherland. Since its inception in 2019 the band has been performing its own blend of original and covered music that is influenced by folk, bluegrass, blues and swing. There is a strong Canadian flavor to their repertoire. 
Homespun Band combines the lead and harmony vocals of sisters Bonnie Dennis and Candy Little with instrumentation from classically trained Winnie Cooper on flute and similarly with Jeffrey Freed on fiddle. The combination gives Homespun a rich and melodic sound that has resonated with its varied audiences. Percussionist Brad Hawkes and bassist John Cornes - songwriters in their own right - bring decades of performing experience to provide the backbone to the band.
Long Bio of Homespun Band  
The Homespun Band is a folk fusion band that was put together in 2019 by Victoria-based singer/songwriter Duncan Sutherland. He, along with band member and friend John Cornes, write all of the band's original music. Homespun's distinct sound comes from the blending of accomplished vocalists and instrumentalists who each contribute their own music sensibilities that span across a wide range of musical genres. Their eclectic repertoire of original and covered material is influenced by folk, bluegrass, blues, swing and country. Duncan is the band's rhythm guitarist.  
Lead and harmony vocalists feature sisters Bonnie Dennis and Candy Little whose airtight harmonies bring a distinctive and melodic sound to the band. They spent their childhoods in a lakeside northern BC log cabin. Without TV, the family spent their evenings singing and learning harmonies.  
Stand up bassist and vocalist John Cornes' musical career has taken him down many roads. More recently he has played with the Children of Celebrities, Dinette (a Gypsy jazz band) and is currently with acoustic roots group Bowker Creek.  
Classically trained flutist Winnie Cooper brings her melodic interpretations to the band. Winnie has been playing flute since 1969! No matter what the style of music Winnie will shower it with energy and creativity.  
Homespun Band is pleased to welcome Jeffrey Freed  to our Homespun family. An accomplished classical violinist familiar with an eclectic range of musical genres from swing to gypsy jazz, Jeff  brings his wealth of performance experience to the band. Welcome aboard! 
Percussionist Brad Hawkes'  love of drumming began in 1964 when his dad bought him his first set of drums. His first gigs were playing along with the jukebox at sock hops. Brad started playing congas in the late 60s in coffee houses. He has recorded and performed with a variety of songwriters, choirs and bands on Vancouver Island. His music styles include folk, country, bluegrass, Celtic, jazz, rock, latin, Persian, blues and choral.